Overview of Smile of Angkor Grand E-pic Show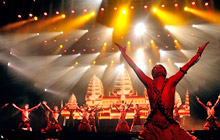 The Smile of Angkor Grand Epic Show in Siem Reap is a show about the history and culture of Cambodia. Dancers from the Cambodian Royal Ballet as well as from China immerse you to the time when the Temples of Angkor were built. Smile of Angkor is a high technology laser show with modern lighting and sound system. It combines ancient Cambodian songs and dances with ancient Khmer martial art performances, acrobatics, legends, local Khmer life, the temples of Angkor, Khmer festivals and the Hindu myth Churning the Sea of Milk.
The Smile of Angkor Show is shown in the Siem Reap Exhibition Center AngkorCOEX, which is located just north of the Apsara roundabout on Apsara Road near the Charles de Gaulle Boulevard.
Smile of Angkor not only make a great achievement in Cambodia culture and arts, but make a great contribution to Cambodia people. In Smile of Angkor, ninety percent of the dancers are Cambodia. Some of them are orphans; some of their relatives are the victim of landmine. Smile of Angkor offer them a job, train them to be a dancer. They become the inheritor of Cambodia culture. Smile of Angkor also cooperates with two Cambodia Orphan Schools to support these poor children by donation. Watching Smile of Angkor, you not only can enjoy the real culture of Cambodia, but can help Cambodia people.
Cambodia Creates a New Wonder for the World
The four worthiest visiting venues in Angkor: Angkor Thom, Angkor Wat, Tonle Sap Lake, And Smile of Angkor. " Smile of Angkor " is the new wonder that Cambodia creates to the world.
>> HIGHLIGHTS MENU:
- Cast: Ms. Vonsopianliga, the best Royal Apsara dancer. Master Konay, the most popular and classical musician in Cambodia.
- Exquisite Costumes: All the costumes displayed on the stage were refined from the reliefs of Angkor Wat.
- International Stage Conceptions: Our stage design conception highly respects for the ancient culture and faith.
- International Stage Effects: The latest stage technology such as LED, Laser, smog, lights, water curtain…..
- Galaxy of the Classical Khmer Dances: Royal Candle Dance, Apsara Dance, Shiva Dance, and Revived Hero Dance... are the masterpiece of Royal Khmer Culture which revive the real culture of Angkor Kingdom.
>> Show Contents List:
Preface Ask God

Chapter One: Glorious Kingdom

Chapter two: Resurrection of Gods

Chapter three: Churning the Ocean of Milk

Chapter four: Prayer of Life

Ending Smile of Angkor
>> Noticed: Walk in price : $48 per ticket
Seat A: Special Price: USD 35.00

Seat B: Special Price: USD 33.00
Group Booking from 5 Person up : USD 33.00 (Seat A)

1. Just for Kids, Children Aged 4 to 12 offer 50% off
2. Ticket with 1 Buffet Free!
>> We Included:
- Free transfer from & to Your Hotel
- Ticket for Smile of Angkor Grand Epic Show
- Enjoy with Buffet Dinner
- All Government Taxes
>> Noticed:
- Show Time: 19:15 - 20:25 (70 minutes, every evening)
- Pick up time: 5:45PM
- Buffet Dinner Time start from: 6:00PM
- Show Start time: 7:15PM
- Children <12 years old is half price of adult
- Smile of Angkor Allow to take photograph without using flash tools